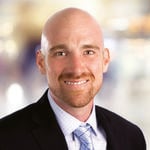 Stephen Jenkins
A little bit about me...
Stephen Jenkins was raised in Frederick with two siblings. As a child, Stephen had aspirations of being a business owner. Never in a million years did he think he'd stumble into the real estate industry, but you can't always predict where or when you'll discover what you're meant to do in life. Stephen was taught at a young age that if you want something in life, you have to work for it. So that's what he did. And he worked hard. As the years went by, Stephen worked his way from the service industry, to enlisting in the Air Force to serve his country as previous generations in his family have, never wavering in his resolve to become the best version of himself with each career move. Stephen got into the real estate industry when he and his wife were searching for their home to raise their three children in, and recognized what a life changing event this journey is and how it sets the foundation for years to come. He set out to help new home buyers find the right home, and to help veterans find a home that meets their needs. He strives in helping people sell their homes for top dollar. As his career advanced, Stephen found his stride working with sellers that were new to listing their home, active duty military, veterans and new home buyers in the Maryland area. He's an expert in communicating expectations and helping clients through each step of the process.
Stephen lives in Frederick, MD with his wife and three lively kids! In his free time, he enjoys being at the baseball field watching his son play, golfing and spending time with family. Stephen aims to provide the highest level of service to his clients and takes deep pride in helping them achieve their real estate goals.